El Tema
Posted by

CIDeV

on

Sunday, 10 December 2017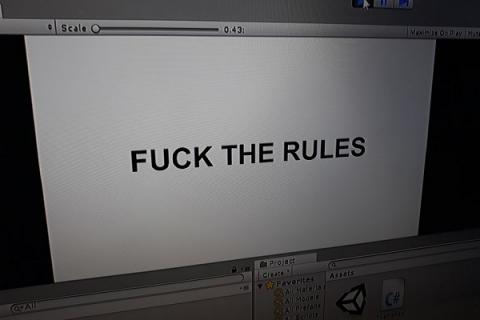 Se seleccionó aleatoriamente un tema de una lista de 108 posibilidades. Los temas rondaban cosas abstractas como Loop, 3 (simplemente el número 3), punk, hasta cosas más concretas (y descabelladas) como peaceful weapons, the world is made of cheese o Double jumping otters.
La aplicación encargada de seleccionar el tema iteró de forma aleatoria por 20 segundos pasando rápidamente por varios de los posibles temas mientras los participantes alzaban la voz en desesperación hasta que al final la ruleta se detuvo y el tema quedó revelado:
"FUCK THE RULES"
Todos los equipos tienen el reto de representar en sus productos la idea de "A LA %#3$%& LAS REGLAS"